|news-releases|2015|
Exploration License 1120 Extended For One Year
January 19, 2015
Shoal Point Energy has been informed by license holders Ptarmigan Energy Inc. and Black Spruce Exploration Corp. that a drilling deposit has been filed with the Canada-Newfoundland Labrador Offshore Petroleum Board (C-NLOPB), and the Board has agreed to extend Period I of EL 1120 by one year, in accordance with the terms and conditions of the license. The C-NLOPB has confirmed that Period I of the license will now expire on January 15, 2016.
Under an amended farmout agreement with Ptarmigan Energy, Shoal Point Energy has the right to earn an 80% working interest in a portion (yellow hatched in map below) of EL 1120 by drilling and testing a target within the Humber Arm Allochthon. This test well must be spudded before January 15, 2016.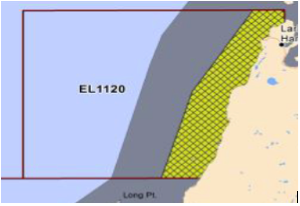 For further information, please contact:
Mr. Mark Jarvis, Chief Executive Officer
Tel - 416-637-2181 extension 310
The Canadian Securities Exchange (CSE) has neither approved nor disapproved the contents of this news release.